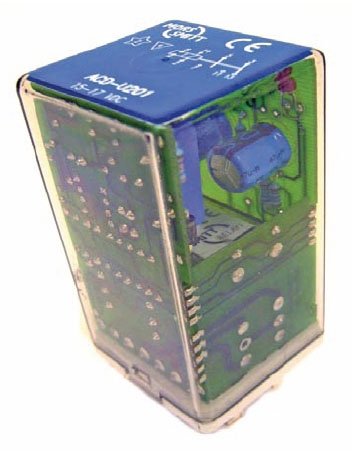 Niet meer leverbare spoorwegrelais
ACD-U200 Battery voltage monitoring relay
Obsolete
Informatie
Dit product is niet meer verkrijgbaar. Het vervangende relais is de MTDV4-U200.
Klik hier om naar de productpagina van het MTDV4-U200 te gaan.
Description
Electronic plug-in railway monitoring relay for battery voltages. The relay reacts on the mean value of a DC-voltage with ripple. The pull-in voltage and hysteresis (difference between pull-in voltage and drop-out voltage) are adjustable by means of multiturn trimpotentiometers.
The pull-in time after crossing the setpoint is < 15ms.The drop-out time is approximately 20 ms, which can be extended to 250 ms. Optional the relay can be supplied with fixed (sealed) set values, or led indication. The ACD relays are pluggable into standard D-U200 relay sockets.
Features
Plug-in DC voltage monitoring relay

Adjustable pull-in voltage and hysteresis (with a multi-turn potentiometer)

1 CO and 1 NO contact (weld no transfer)

Compact plug-in design

Flat, square silver plated relay pins for excellent socket connection

Wide range sockets

Integrated snap lock

Transparent cover

Flexibility by many options
Benefits
Proven reliable

Long term availability

Easy to maintain

Used in safety critical applications

Low life cycle cost

No maintenance
Railway compliancy
EN 50155 Electronic equipment used on rolling stock for railway applications

IEC 60571 Electronic equipment used on railway vehicles

IEC 60077 Electrical equipment for rolling stock in railway applications

IEC 60947 Low voltage switch gear and control gear

IEC 61373 Rolling stock equipment - Shock and vibration test

EN 50121 Electromagnetic compatibility for railway applications

NF F16-101/102, TS 45545-2 Fire behaviour - Railway rolling stock

IEC 60529 European standard describes the protection class (IP-code)

IEC 60068-2