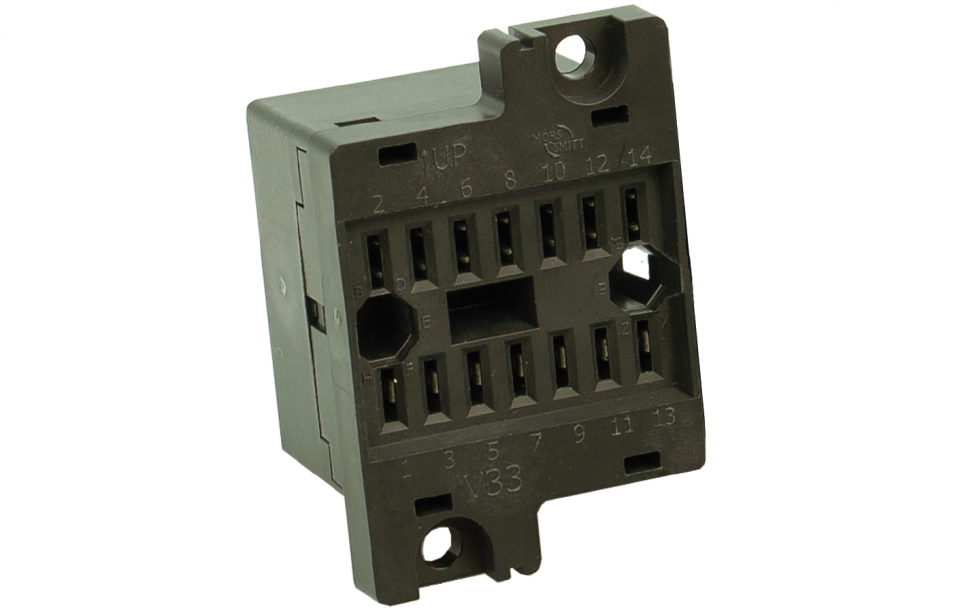 Flush & PCB mounting sockets
V33 socket – push-in terminal, panel mount
338000570
Informatie
Description
The V33 is a panel/flush mount relay socket. The V33 socket has a base with two highly reliable push-in terminals per relay contact, so looping/daisy chaining can be done on the socket and no external connector or terminal is needed.

Solid and stranded wires with ferrules can be inserted without using a tool or pressing a lever. Wires up to 3.3 mm2 can be inserted. This quick & easy wiring method saves up to 75% wiring time. Pinning on the socket complies with pinning on the relay.

To prevent fault relay placement the socket can be equipped with mechanical keying to accept only designated identical keyed relays.


Application
The V33 relay socket is suitable for general railway and industry applications with a space saving design. Installation and replacement of relays is made easy and cost saving. No maintenance is required for the user. Suitable for all railway and industry D- & D-U relay series.
Features
Panel / flush mount
Very compact solution
Sturdy push-in terminals
Solid and stranded wires with ferrules can be inserted easily without using a tool
Stranded wires without ferrules can be inserted with a flatbladed screwdriver
Twin connection per relay contact
Large wires up to 3.3 mm2 (AWG 12)
High density matrix of relay/sockets possible, horizontal and vertical stacked
Suitable for all railway and industry D- & D-U relay series
Easy & quick installation (up to 75% reduction of wiring time)
Positive mechanical keying
Trifurcated female receiver for tight grip relay pin
Clear terminal ID
Industry compliancy
EN 60947-5-1
IEC 61810
REACH
RoHS