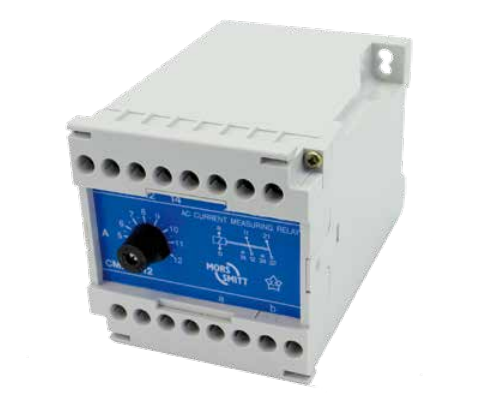 Monitoring relays
CMP relay - Current monitoring AC input
Informatie
Description
Current monitoring railway relay with two change-over contacts. Suitable for AC currents (16-60 Hz) and no auxiliary power supply necessary. The pull-in current is adjustable with a lockable knob. The contacts are weld-no-transfer contacts: they are mechanically forced in the same position.

The construction of the relay and choice of materials makes the CMP relay suitable to withstand corrosive atmospheres, low and high temperatures, shock & vibrating and dry to very humid environments.

No external socket necessary, the relay can be mounted directly on a 35 mm rail without extra fasteners, or on any surface via 2 screws.
Application
These relay series are designed for rolling stock applications. The CMP is used in applications for accurate current monitoring.
Features
Current monitoring relay
AC input (16-60 Hz)
2 C/O contacts
Very sensitive, very accurate
Adjustable pull-in current via lockable knob
Total current range: 0.2-12 A
Weld-no-transfer contacts
No auxiliary power supply necessary
Screw terminals IP20
Mounting on 35 mm rail
Mounting on any surface via 2 screws
Benefits
Proven reliable
Long term availability
Easy to maintain
Low life cycle cost
No maintenance
Railway compliancy
EN 50155 Electronic equipment used on rolling stock for railway applications
IEC 60571 Electronic equipment used on railway vehicles
IEC 60077 Electrical equipment for rolling stock in railway applications
IEC 60947 Low voltage switch gear and control gear
IEC 61373 Rolling stock equipment - Shock and vibration test
EN 50121 Electromagnetic compatibility for railway applications
NF F 16-101/102, TS 45545-2 Fire behaviour - Railway rolling stock
IEC 60529 European standard describes the protection class (IP-code)
NF F 62-002 On-off contact relays and fixed connections