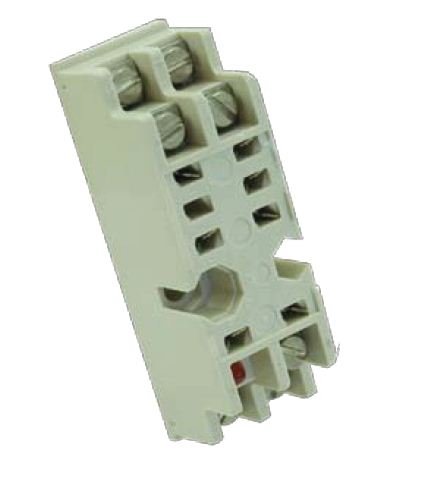 Niet meer leverbare spoorweg relaisvoeten
V15 socket - Screw terminal, wall mount, diode and LED
Obsolete
Informatie
This product is no longer available. The replacement socket is the V16.
Click here to go to the product page of the V16.
Description
The V15 is a surface / wall mount relay socket. The V15 socket has one screw terminal per relay contact suitable for two wires up to 2.5 mm2, so looping/daisy chaining can be done on the socket and no external connector or terminal is needed.
Optional 35 mm rail mount with A109 rail clip.
The V15 has a back EMF protection diode included, to prevent a voltage surge to protect connected electronics. Also a LED is included to show clearly if the coil is energized.
To prevent fault relay placement the socket can be equipped with mechanical keying to accept only designated identical keyed relays..
Application
The V15 relay socket is suitable for general railway applications with a space saving design. Installation and replacement of relays is made easy and cost saving. No maintenance is required for the user.
Suitable for the CU-U200-D relays only.
Features
Surface / wall mount

Optional 35 mm rail mount with A109 rail clip

Sturdy screw terminals

Back EMF protection diode

Space saving

Suitable for all CU relay series

Up to two wires of 1.8 mm2 per connection terminal

Positive mechanical keying

Bifurcated female receiver for tight grip relay pin

Clear terminal ID
Benefits
Proven reliable

Long term availability

Easy to maintain

Low life cycle cost

No maintenance
Railway compliancy
EN 50155 Electronic equipment used on rolling stock for railway applications

IEC 60571 Electronic equipment used on railway vehicles

NF F 16-101/102, TS 45545-2 Fire behaviour - Railway rolling stock

IEC 60715 Dimensions of low voltage switchgear and controlgear

NF F 62-002 On-off contact relays and fixed connections